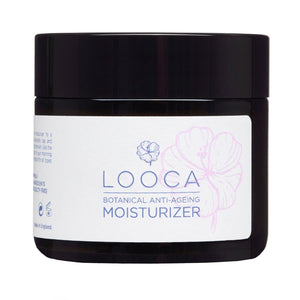 Botanical Anti-Ageing Moisturizer
Infused with plant stem cells, soothing shea butter and all natural hibiscus extract. Skin radiance booster with youthifying effect.
Regular price $24.00 Sale

It's time to say goodbye to the formation of fine lines and wrinkles.The ultimate lifesaver for the skin that started to see the first signs of ageing, this Botanical Botox Moisturizer will increase your skin's firmness and elasticity, with a youthifying effect.
REDUCE AND PREVENT THE SIGNS OF AGEING. REVEAL A NATURAL, NEW RADIANCE!
Infused with plant stem cells, our natural and organic moisturizer will boost the cell production resulting in a skin that looks YOUNGER and DEWY.
Our soothing shea butter and all-natural hibiscus extract will reduce the appearance of fine lines and wrinkles while it soothes and conditions to leave your skin looking HEALTHY.
Benefits:
Your skin will appear soothed and energized while being protected against pollution.
Vitamin E offers antioxidant protection.
Ensures FIRMER and HYDRATED skin texture even during cold winter months.
The botanical extracts (such as "the botox plant") increase the ELASTICITY of your skin and minimize the appearance of new wrinkles.
Recommended for:
All skin types; Mature skin.

How to use it?
Apply a small amount of moisturizer to a cleansed face and neck. Delicately tap and blend the product evenly into the skin. Use the product twice a day as part of your morning and night routine.
Shipping in UK & EU
Orders placed for UK and EU countries are dispatched directly from an Amazon warehouse within 24-48 hours.

Shipping internationally
We ship all over the world but would you not find your country at the check out, do get in touch with us and we will fix it right away.

What about delivery time?
UK deliveries: you will have to wait around 2-4 working days.
EU and US deliveries: it will take up to 3-8 working days (it depends on your location).
Rest of the world deliveries: count about 6-12 working days.

And what about shipping costs?
The final price, which includes the shipping costs is calculated at check out.
FREE DELIVERY to UK for orders above £20.
FREE DELIVERY worldwide for orders above £50.
As soon as your order is dispatched, you will be notified via email. You will also be able to track your delivery progress of your package by logging into your account.

What about duties and import fees?
If your purchase exceeds $800, you will pay import fees for orders shipped to the USA.
There are no customs and import fees for UK and EU countries.
For customers located anywhere else (than UK, EU and USA), taxes and import duties are your responsibility, as a buyer. The amount might depend on your location as different countries have different tariffs for each product.

Return and refunds
If you are not happy with your purchase, get in touch with us (via email, our contact form) and describe the problem that you're facing. We'll find a way to reach a solution and ultimately, replace the product or refund you.
For more information, check out our terms of service and returns policy pages.
Natural, organic, cruelty free ingredients
Aqua,

Prunus armeniaca (Apricot kernel oil), 

Cetearyl alcohol & Polysorbate 60 (Emulsifying wax NF), 

Helianthus annuus (Sunflower oil), 

Vegetable glycerin, 

Olea europaea (Olive oil), 

Cocos nucifera (Coconut oil), 

Butyrospermum parkii (Shea butter), 

Phenoxyethanol & Ethylhexylglycerin, 

Stearic acid, 

Zinc oxide, 

Allantoin, 

Avena sativa extract (Oat silk), 

α-Tocopherol (Vitamin E), 

Sodium hyaluronate (Hyaluronic acid),

Xanthan gum, 

Oryza sativa (Rice bran oil), 

Hydrocotyl centella asiatica (Gotu kola extract), 

Pyrus malus (Apple fruit extract), 

Vitis vinifera (Grapeseed extract), 

Hibiscus sabdariffa (Hibiscus flower powder)
Why buy from us?
Our products are made with natural, plant-based ingredients purchased from quality (and if possible local) producers.
Our line of products does not contain any parabens, artificial fragrances or animal ingredients.

We limit as much as possible the use of synthetic ingredients. This is the reason why our products have a rather limited shelf life. However, some synthetic ingredients are necessary. We make sure the quantities are insignificant and non-harmful. 

We don't test our products on animals - in fact, half of our team is vegetarian.

We limit as much as possible the use of plastic: 

our jars are made of glass that can easily be recycled. 

we encourage the recycling of the plastic cap. 


no plastic is used for wrapping & sealing the box.

our product labels are made of paper.

we aim to make our boxes from recycled paper. 

Our team strives to live and work with compassion, kindness and empathy while being environmentally sustainable. These are our values and they are reflected in our products.